Hutt Valley Hearing is the trading name of the Hutt Valley Hearing Trust, a registered New Zealand charitable trust in Hutt Valley, Wellington.
We support the well-being of those affected by hearing loss while promoting hearing health and hearing loss prevention.
I am a very experienced administration manager who has worked in the field of not-for-profit administration, mostly in the hospitality field, for a very long time. I bring a wealth of knowledge and experience to my role in all aspects of accounts, office administration and staff management.
When I joined this organisation I gained a huge amount of understanding about what I was experiencing and what deafness actually means to those that live with it.
Like most disabilities that cannot be seen, there is a lot of education and input required from many levels to help those who, like me, are experiencing age-related deafness. I firmly believe that we must start at the grass roots and identify all forms of deafness in our community and help those who have needs that are not being met in the traditional welfare system.
My partner and I have lived in the Hutt Valley for 15 years now. I have two sons, both living in Melbourne with their families. I have five grandchildren of my own and when I add my partner's grandchildren, we have a total of 13 grandchildren. They keep us very busy! My hobbies are home-based – knitting, sewing and baking. We love to travel, too.
I recently began wearing hearing aids, particularly necessary in my case for hearing in crowded situations such as restaurants and bars.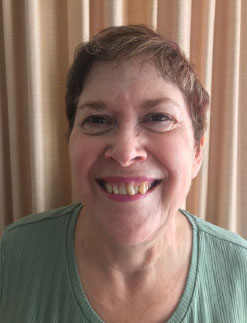 Ann
I have been a registered nurse NZRN for 38 years at the time of writing.
I have worked as an ear nurse for 13 years. I find it very satisfying to see my clients leave feeling much better and hearing much clearer. I enjoy passing on education about ear health to my clients and their families.
I particularly enjoy working with children from the age of 18 months upwards.
I have two adult children still living at home and drinking my whiskey.
I enjoy reading, Netflix and socialising with my family and friends.
Helen
I am a registered NZRN – New Zealand registered nurse, and I have been nursing for over 30 years in a variety of roles including as a practice nurse in Upper Hutt for a number of years. I took a year off to nurse my mother before she passed away.
I then started looking around for a part-time position, working with people – which I really enjoy.
I heard about this role as an ear nurse working for a not-for-profit who were willing to upskill me, so I approached them, and I started in January 2021. I am thoroughly enjoying my work as an ear nurse and once again being in contact with people and being able to help them feel better.
I am married with two adult children, a dog lover and defender of innocent animals. I enjoy getting out on my motorcycle with my husband and am an infrequent gym attendee.