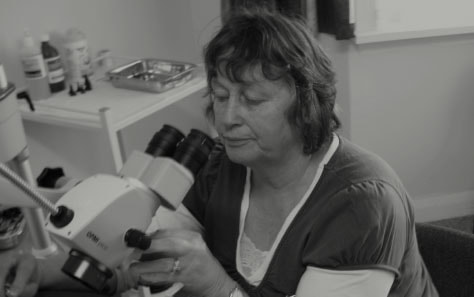 I hold Bachelor of Science and Master of Audiology degrees from the University of Auckland, NZ and a Doctor of Audiology degree from Salus University, Pennsylvania, USA.
I am a full member of the New Zealand Audiological Society (NZAS). I also hold a NZAS Certificate of Clinical Competency and a current NZAS practising certificate. I have been a practising clinical Audiologist since 1997, and have worked in a variety of public and private clinical practices in Australasia, mostly in the lower North Island.
My practice approach is a personal focus on individual needs. I encourage family-centred care. I firmly believe in a service approach towards audiology, rather than the common retail model.
I have lived in Lower Hutt since 2005 with my husband who is a doctor at HVDHB, and our two school-age children. In my spare time I have many interests particularly in music, arts and sustainable living. I play cello with Hutt Valley Orchestra and manage the Wellington Youth Sinfonietta. My two school-age children provide much delight and keep me busy with their interests.
I am a Marist Brother with a strong educational background.
I bring experience on school boards and other educational boards. I wear hearing aids so sympathetic to the cause; work well with people from all walks of life.
I have taught in secondary schools in New Zealand, mostly senior classes, and 10 years' experience as Deputy Principal of a teachers' college in Auckland. Worked 3 years as Director of Catholic Education in Fiji. Taught in a high school in the Solomons as well as spent a year in administration in Port Moresby, with connections in Vanuatu, Solomons and Bougainville.
I obtained an M.A. in Religious Studies at Catholic University of America (Washington, D.C.) and practised as a high school counsellor, with a Diploma in Guidance and Counselling.
I am a retired, local resident of Lower Hutt. My paid work was mostly in the management of community and not-for-profit organisations. These included Age Concern, IHC, Motor Neurone Disease Association, Disability Information Centre Kapiti and Men for Non-Violence Kapiti.
I have always maintained a strong interest in community development. I was Treasurer for a number of years of the Kelson Community Association.
I was a mature student at Victoria University and graduated with a BA, majoring in Anthropology, Social Administration and Social Policy. I have travelled widely in Africa, Europe, North America and the Middle East.
I began to experience hearing loss 15 years ago and today wear hearing aids. My hearing loss is quite significant.
My extensive work and travel experience has equipped me with a wide range of management and people skills. I have strengths in planning, including developing strategic/business plans.
I am a sound decision maker with good analytical and problem solving skills. I feel strongly in giving to my community and feel I can contribute positively to the board through my wide life experience.
Brian is a professional engineer whose career spans almost 50 years in public and private sector roles in the fields of telecommunications, IT and electronics. He founded and led two successful companies, the second of which – Tekron International Ltd – was sold in 2020 to become an operating subsidiary of MicroChip Technology, USA.
In parallel with his professional career, Brian has a continuous record of voluntary community service through Christian community outreach initiatives and various board positions. During the '90s, he trained as a counsellor. The skills acquired then continue to be useful today. Brian has been an active Rotarian for more than 20 years, and recently completed two back-to-back three-year terms as chair of the Wellington Baptist Association of Churches. He has been a member of the Hutt Valley Heart Trust Board since 2017 (currently Hon. Sec.) and is President of Waterloo Probus Club.
Brian is married to Shona, and since moving from Dunedin in 1977 they have raised a family of four children in the Hutt Valley.
Brian first became aware of the realities of hearing loss as Shona began to experience this while teaching in the mid '90s. Although now profoundly deaf, Shona remains enthusiastically engaged in life, with hearing assisted by a combination of hearing aid and cochlear implant. She and Brian continue to enjoy the privilege of family life as grandparents to five grandchildren who are all now growing into adulthood.
Brian enjoys club 4wD'ing off-road. He and Shona try to offset the negative environmental impact of his old diesel-powered Land Cruiser by using EVs for all "on-road" travel, and by walking and biking in the many parks and reserves that we are blessed to have close by.
I was drawn to the Hearing Trust as I believe there is a significant role for the Trust to play and I wish to be part of it.
I am beginning to experience age-related hearing loss (too many loud concerts in my youth) and wish to help educate following generations in protecting their hearing. I experienced the distress caused by hearing loss in both my parents and realise the potential for social isolation if no help is available.
I have 40 years' experience in the role of a Chartered Accountant with a special interest in not for profit Organisations and feel that I can bring these very practical skills to the table.
I've had two very different careers – one money oriented and the other totally people focused. I did a degree at Victoria University in Economics then worked in Treasury, writing reports and cost/benefit analyses for the Minister of Finance. After 5 incredible years I had my family and was fortunate to not have to do paid work. I did lots of community volunteering which continues today.
Twenty-five years ago I became the CEO of the Personal Advocacy Trust who found advocates/friends for people with an intellectual impairment. I recruited, trained and supported staff, parents and members all over the country. I retired 5 years ago.
I started losing my hearing in my 20s, have had many operations and now have absolutely no hearing in one ear and aids to enable me to hear at all. I will bring to the Board a lot of knowledge of hearing loss and living with it, but also skills in financial and people management, networking, problem solving and communication.
I've been involved with the Hutt Valley Hearing Association for many years, starting with time on the committee in the 1970s then again in the last decade.